Paco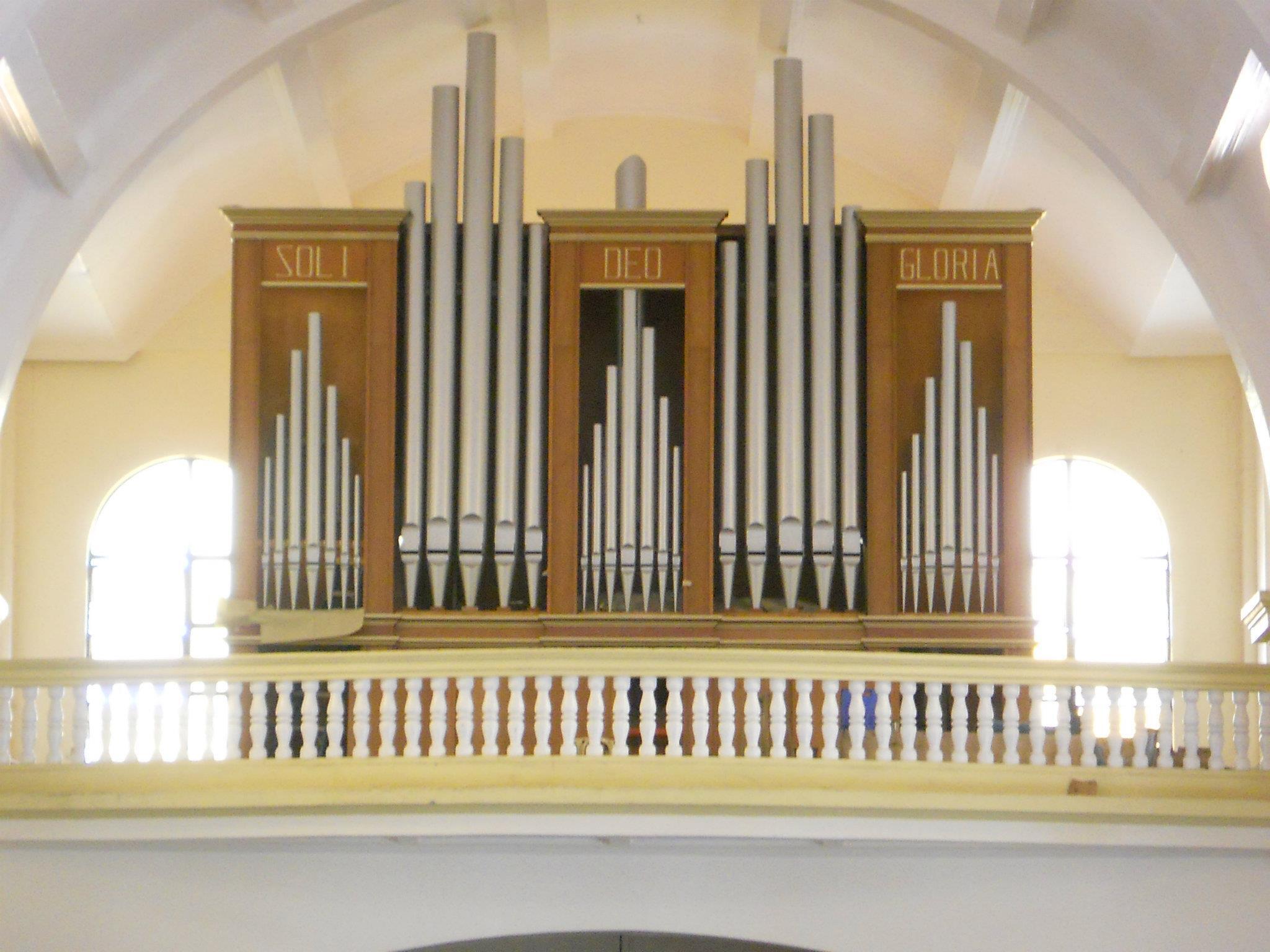 This majestic electro-pneumatic transept organ was constructed
in 1966 by Jose Lionaz.
It was blessed by Msgr. Pedro Bantique; Rev. Fr. Francisco Witterzaele
on march 19, 1966. The organ was made possible thru donations from
parishioners, teachers and students of Paco Catholic School.
This was the disposition before the rebuild in 2012 (see below)

DISPOSITION
PEDAL
Contrabass 16'
Principal 8'
Choralbass 4'
Subbass 16'
Gedeckt 8'
Violoncello 4'
Trumpet 8'
GREAT

Principal 8'
Bordon 8'
Gemshorn 4'
Octave 4'
Superoctave 2'
Mixture 5r
Trompete 8'
SWELL

Viola de Gamba 8'
Flauta Harmonica 8'
Principal 4'
Octave 2'
Mixture 4r
Fagott 16'
Oboe 8'
In 2012 a complete rebuild was performed by Diega Cera Organ Builders.
Hereby the old kernel of the previous organ is retained as a pipe organ,
and complete (hopefully temporarily) with digital stops (which should
be replaced by real organ pipes gradually again).
The casework is impressive, and the new disposition is:

Contra Violone 32 digital
Diapason 16' pipes
Subbass 16 pipes
Principal 8' digital
Gedeckt 8 pipes
Choralbas 4' digital
Violon 4 digital
Hintersatz digital
Bombard 32 digital
Posaune 16 digital
Trumpet 8 digital
Great 8
Swell 8


Quinta 16 digital
Principal 8 pipes
Flauta 8 digital
Bordon 8 pipes
Octave 4 pipes
Gemshorn 4 pipes
Octave 2 pipes
Cornet digital
Mixture 5 r pipes
Trumpet 8 digital

Swell 16
Swell 8


Gedeckt 16' digital
Flautado 8 digital
Rohrflote 8' digital
Gamba 8 digital
Celeste 8' digital
Octave 4' digital
Flute 4' digital
Nazard 2 2/3' digital
Waldflote 2' digital
Tierce 1 3/5' digital
Cimbel digital
Fagotto 16' digital
Trumpet 8' digital
Oboe 8' digital