Union Church, Makate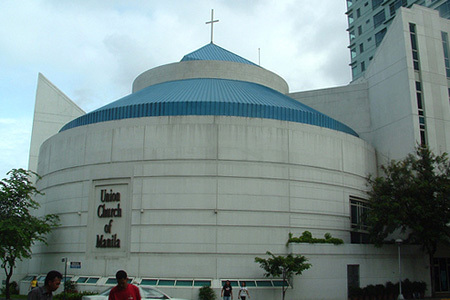 From the outside, the building looks like a round giant alien spaceship that just
landed on earth, with a blue roof topped by a white cross. The inside combines the
best of both traditional and contemporary church design. There, one finds a chancel
surrounded by pews on a semi-sloped floor. The chancel area seemed a bit crowded,
though, with an altar, a huge wooden pulpit, a baptismal font, and a communion table
with bread and cup on display. But the most prominent feature is the ceiling, where
there is a giant cross made of two huge beams that support the circular structure.

The Union Church of Manila was founded in 1914 by a group of Presbyterian, Methodist
and Disciples of Christ missionaries who agreed that a united ministry to the American
population in the country transcended denominational concerns (the Philippines was a
still a commonwealth of the United States at the time). The church struggled to survive
during World War I, the Great Depression, World War II and the war for the liberation of
Manila. After the United States recognized Filipino independence in 1946, membership
grew quickly and the church became a major presence in the religious fabric of the
Philippines, carrying on dozens of ministries and outreaches. It still advertises itself
as an "international evangelical, English-speaking church".