Nuestra Señora de Guia, Ermita, Manila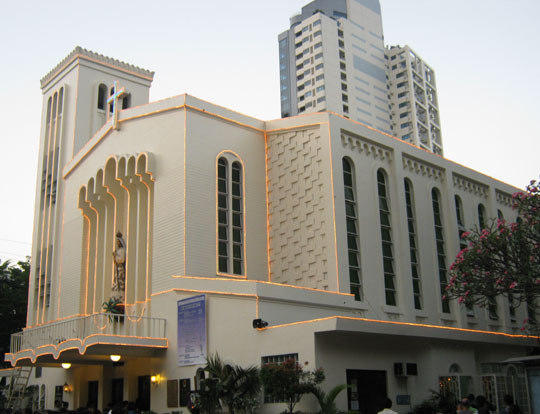 This Catholic church, often known as the Ermita Church, was founded 1606. The first
church on this site was made of bamboo, nipa and mulawen, but was later rebuit of
stone. The present church was built in 1947. The church was oftentimes damaged by
eartquake. It was rebuilt again in 1810 and damaged again in 1945 during World
War II.

The image of Our Lady of Guidance held in the church is the oldest in the
Philippines, having been discovered on May 19, 1571 around the seashore which is
now the site of the Ermita Church by soldiers of Miguel López de Legazpi after he
took over possession of the city in honor of King Felipe II of Spain. It is said
that the image must have been one of those brought to the country by Ferdinand
Magellan in 1521 and must have been sent by the Cebu native chiefs as a gift to
one of the rajahs in Manila. It was originally housed at Manila Cathedral, but
was transferred here in 1918.

Ermita Church considered the foremost of Marian Shrines in the Philippines has
been declared an Archdiocesan Shrine of Nuestra Señora de Guia by Manila Archbishop
Gaudencio B. Rosales.