Immaculate Conception Cathedral, Ozamis City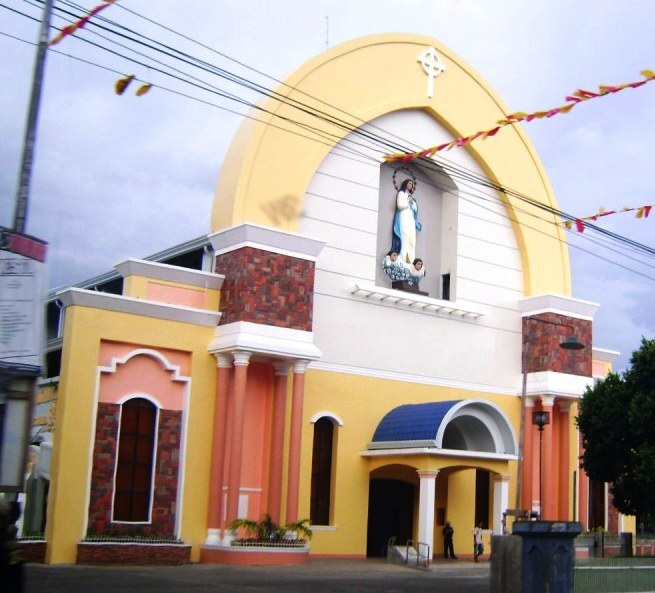 Before a parish exists in Misamis, now Ozamiz City, the Catholic faith was spread in this part of Mindanao by Jesuit missionaries. In 1754, Fr. Jose Ducos, who was the head of the mission in Iligan, put up a mission here. It was a time when there was a great anguish and fear of Moro attacks. Because of the strategic position of Misamis in Panguil Bay, Fr. Ducos who was also a Captain-General of Spanish military and naval forces was given the permission to continue building the fort or Cotta which was started in 1706, in order to defend the bay and its surrounding areas.
The Immaculate Conception Cathedral Parish which has ever since been under the protection of our Lady of the Immaculate Conception was established by the Recoletos in 1789 or before this date. It was then known as the Immaculate Conception Parish
In 1951, the Immaculate Conception Parish became a cathedral parish and the seat of the Prelature of Ozamiz comprising the provinces of Lanao del Norte, Lanao del Sur and Misamis Occidental. On February 24, 1971, the Prelature was divided into the Prelature of Iligan and the Diocese of Ozamiz comprising the cities of Ozamiz, Oroquita and Tangub and the province of Misamis Occidental.
On January 24, 1983 the Diocese of Ozamiz was elevated into an Archdiocese by Pope John Paul II. Also, the new Ecclesiastical Province of Ozamis was established, elevating it to a Metropolitan See and assigning as suffragans the Dioceses of Dipolog, Iligan, Pagadian and the Prelature of Marawi..
Most Rev. Bishop Jesus Dosado, C.M., D.D, was promoted and appointed the first Archbishop of the Metropolitan See of Ozamis.
The cathedral front was recently renovated and altered.